I recently joined the Downing Ventures team, having spent the last three years investing in transport and mobility companies at Jaguar Land Rover's VC fund - InMotion Ventures – a fund I helped set up in 2016.
A major focus for my new role will be leading investments in the rapidly transforming transport and mobility sector, building on Downing's existing investments in companies such as Flock (drone insurance), Vivacity Labs (traffic analytics) and AVID Technology (electric vehicle powertrains).
Ending a century-long love affair with the car?
The 20th Century has been the century of the car. One in which personally owned vehicles have enabled huge economic growth and shaped the design of our cities and our working lives. But the 21st Century will see the primacy of the car challenged in a big way, with significant value created for entrepreneurs and investors.
A few years ago, a well-known Apple analyst, Horace Dediu, popularised the phrase 'The Unbundling of the Car'.
He saw a trend in the transport industry that he'd previously seen driven by the internet and mobile computing. iTunes, and then Spotify, unbundled music – enabling users to listen to any song, any time, on-demand, rather than buying 'bundles' of tracks as CD albums. Netflix then unbundled network television – challenging everything from the screen we watch content on, to how we pay for it and how it's produced. The car, Dediu suggests, is next.
Unbundling the car – one use case at a time
In the US, c.50% of all car trips are less than five miles in length and almost half of those are less than two miles. Circa 10% of trips are under one mile, or roughly a 20-minute walk. That creates a huge opportunity for disruption, as companies create cheaper, cleaner, and more convenient ways to make these short trips.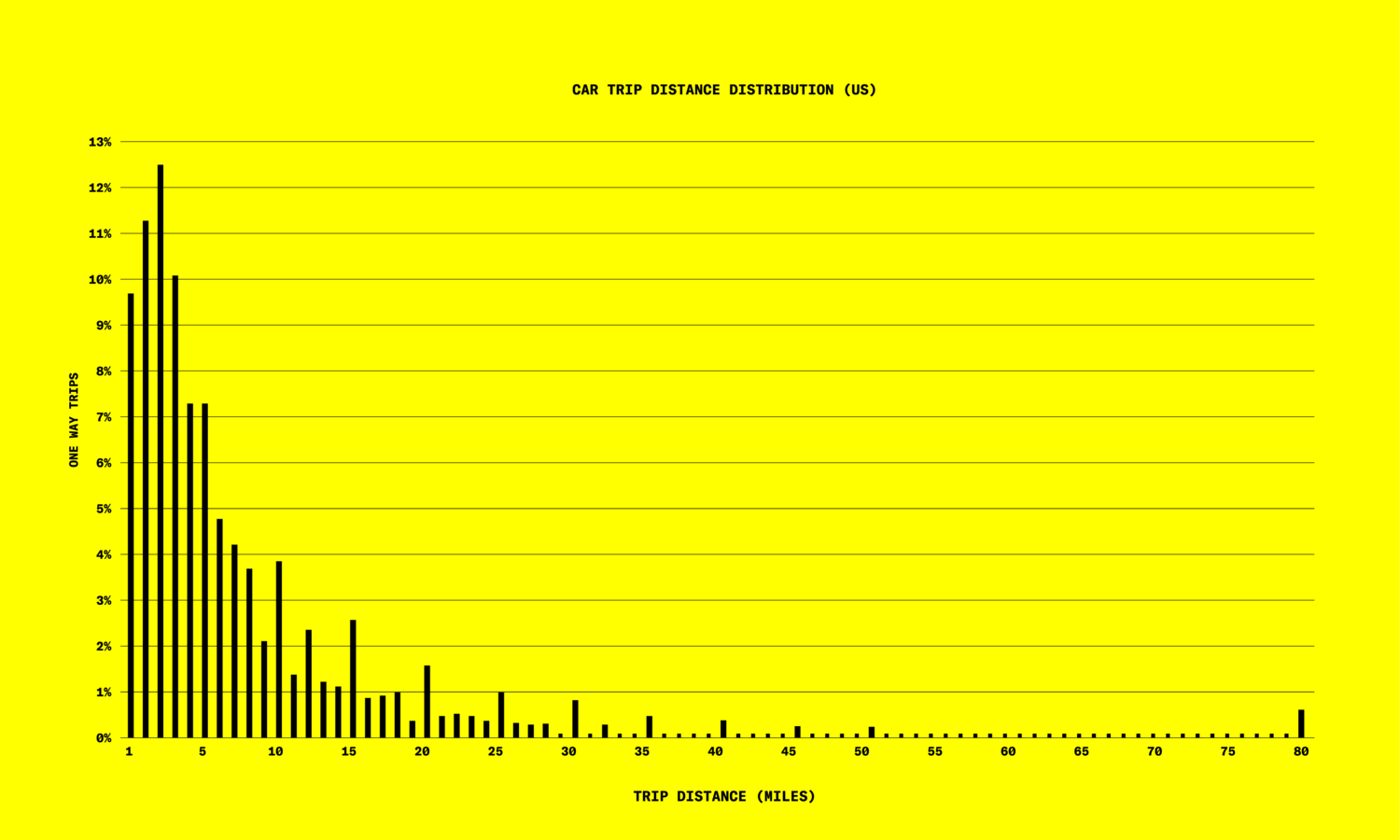 Distribution of US car trips by trip distance. Source: micromobility.io
Some of the companies creating this change are mapped below. We see innovation across the entire spectrum of trips, from the school run to the inter-city commute.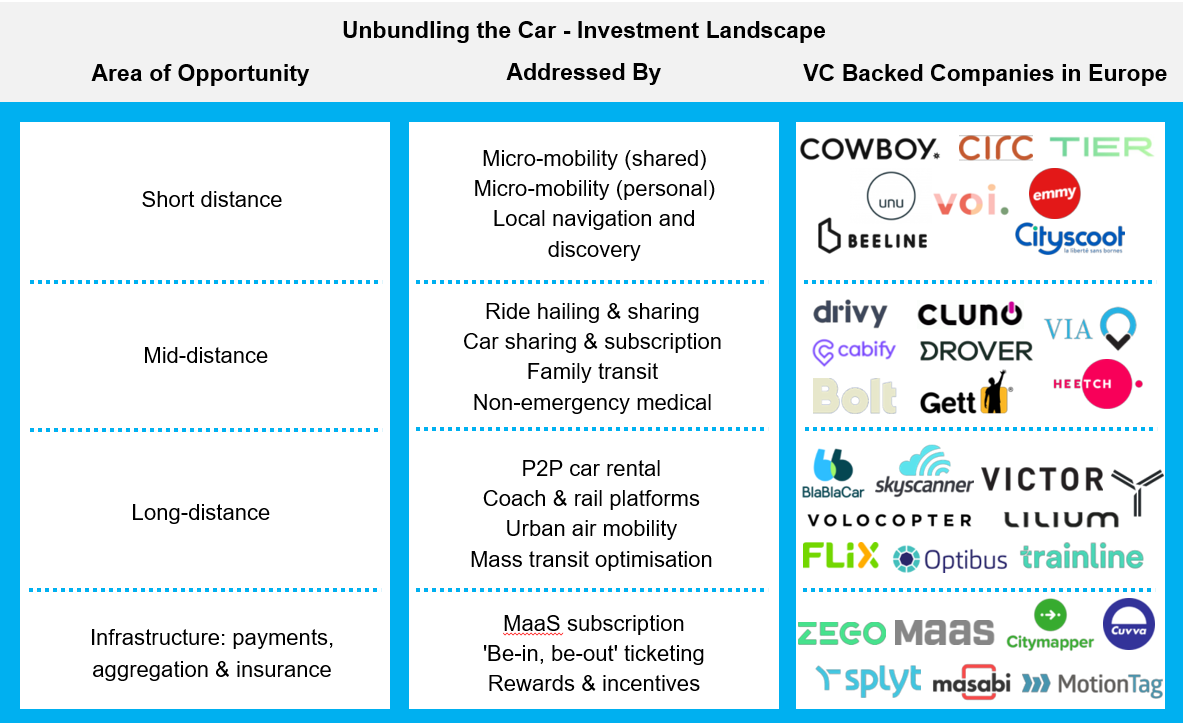 Non-exhaustive map of the European companies unbundling the car, by distance.
Where are the next big opportunities?
I'll be writing more about each of these areas (and more) in the coming weeks, but here are some highlights of the investment themes I'm most interested in:
1. B2B2C, or the 'connective tissue' layer. The dawn of e-commerce brought about a change in delivery and logistics. Most online retailers now wholly or partly subsidise shipping, often fulfilling delivery by automatically connecting to one of many tech-enabled logistics partners. We see the same happening in personal transportation. Bricks and mortar retailers are showing willingness to subsidise the journeys of their best customers to promote loyalty, just as hospitals are starting to pay for ride hailing credits to prevent missed appointments. But to facilitate this at scale, a new middle layer will need to be created. It seems inevitable that B2B2C platforms will emerge, acting as the connective tissue between travellers and their destinations.
Notable companies: Splyt, Validated (acquired by Moovel), Miles
2. Optimising public transport through city scale simulation. For all the talk of new entrants to the transport market, the real hero of urban transport is the mass transit system. In London, 45% of the capital's circa 27 million daily trips are taken on trains and buses. At peak times (commuting hours) that percentage is much higher. As cities grow in population, they need more infrastructure - that is inescapable. But there is a huge opportunity both to do more with the infrastructure we have and to better direct our infrastructure spend. Analysis that was expensive or time intensive in the past can now be done almost instantaneously, as companies harness the vast datasets produced by transport operators to optimise the system.
Notable companies: Optibus, Swiftly, Immense Simulations
3. Subscription access to cars (and other vehicles) coming of age. Car subscriptions offer flexible all-inclusive contracts that give the user access to a fully insured and maintained car for a single monthly payment. Subscription approaches to other, lower value vehicles, like e-bikes, scooters and mopeds are also becoming more common. The less we rely on our cars for our daily transportation, the less prepared we are to commit to the upfront payments and long-term financial products car ownership usually requires. Underpinned by a more general trend towards subscribing for consumer goods (phones, laptops, entertainment etc), flexible car subscriptions will be on the rise.
Notable companies: Evezy, Drover, Cluno, Fair.com, Driver 1, Vanmoof
4. Enabling the mass adoption of electric vehicles. There are few trends in mobility that are as widely agreed upon as the shift to EVs. That said, one big challenge remains, namely, getting our energy infrastructure ready for mass adoption. People we know and trust at energy suppliers, charging networks, OEMs, local councils and the grid, all say this is one of the biggest challenges faced by EV adoption. We are actively searching for the companies building the software and systems that will enable us to serve the growing demand for EV charging.
Let's talk!
If you're a founder building a company in any of the categories mentioned above, or an investor who wants to discuss the opportunity presented by the changing face of urban transport, please do get in touch. We're actively looking to back early stage companies in the sector.
James Nettleton
Principal, Downing Ventures