In the UK energy markets, where there is a trend towards the end of subsidies for renewables and a demand for green energy increasing year-on-year, a key challenge is how subsidy-free renewable energy projects will be funded if revenue is increasingly at risk.
Corporate and Institutional Power Purchase Agreements, more commonly known as corporate PPAs ("CPPAs"), offer one way to reduce this risk: locking in fixed prices with a corporate consumer allows for a stable, long-term, and often inflation-linked revenue stream, providing comfort to institutional investors seeking more secure returns.
Given the significant reduction in renewable energy technology and installation costs, CPPAs can now be set at competitive prices. The prices of solar PV modules have fallen by around 90% since the end of 2009, while wind turbine prices have fallen by 55-60% since 2010. This means that owners of renewable energy generation projects can offer clean electricity for sale at prices that are comparable to the current market cost of electricity for these corporate entities.
The substantial roll out of subsidised renewable generation projects has also allowed for the development of standards (technical and legal amongst others) which reduce the overall risk of a project, allowing for a variety of CPPA structures to exist.
CPPAs are not as commonplace in the EMEA and APAC markets when compared to AMER, where the market is more mature, with a variety of CPPA instruments and structures available (see graph below) which opens up a huge opportunity for EMEA and APAC.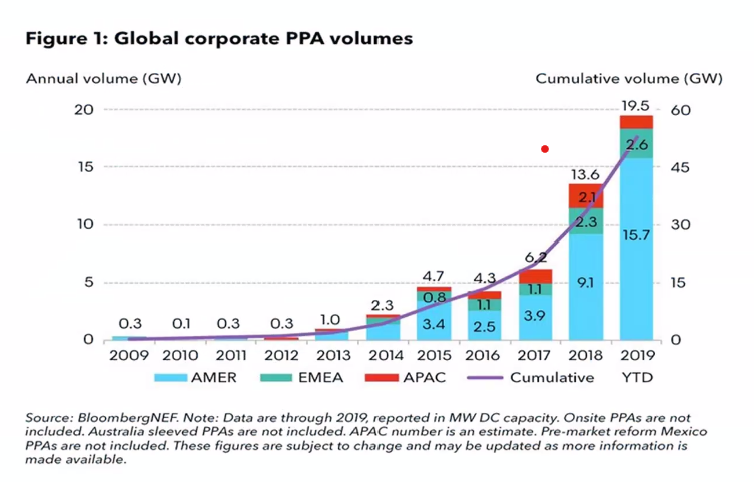 Figure 1 Global growth of CPPA per region
Sustainability
Corporate consumers are increasingly looking to reduce their environmental footprint and energy costs. The 21st United Nations Conference of the Parties (COP21) and RE100 are examples of this momentum:
COP21 implemented UN Sustainability Development Goals in 2015, several of which support the need for corporates to reduce their carbon footprint. This provides a significant opportunity for CPPAs to help businesses achieve their corporate responsibility and environmental goals in addition to decarbonisation targets. In today's market climate and with the introduction of ongoing governmental legislation, it is important for companies to be progressively engaging with real sustainable solutions, which is exactly the opportunity that a CPPA presents; the direct procurement of renewable energy for corporate energy use.
The RE100 collaborative is another example – a global initiative of more than 100 influential businesses committed to develop their operations supported by a 100% renewable electricity supply for their energy requirements, and working to increase demand for, and delivery of, renewable energy.
Each signatory of RE100 has to set an ambitious target for the year they intend to reach a 100% renewable energy supply – another opportunity for CPPAs. In the UK alone, CPPAs could potentially supply much of the 22TWh demand for the UK members, enabling them to be achieving 100% renewable energy by 2030.
This is not to say that there are not companies that have reached 100% renewable energy already – Google reached this milestone in 2017 for their global operations, making them the largest corporate renewable energy purchaser on the planet. Microsoft have been running on 100% renewable energy since 2014 and now are on a mission to "make the data centres disappear" by eliminating the environmental impact of its server farms.
Challenges Ahead
Threats to developers and finance organisations signing CPPAs include geopolitical events such as Brexit, energy price fluctuations and the ongoing global pandemic. With many companies' employees expecting to be working from home all the way into 2021, and changes in commuting and working patterns expected longer-term, corporates are unable to predict what their future energy supply requirements might be. This could mean corporates do not want to commit to large renewable energy supply volumes until the economic and working environment has stabilised. All factors considered however, there remains significant volumes of CPPAs currently being tendered in the UK market, as the longer-term fundamental drivers to decarbonise and achieve price certainty are unlikely to disappear.
Economic Return
There are attractive economic propositions for both buyer and seller. For a buyer, they reduce their exposure to power price volatility when tied into a long term (fixed) CPPA as well being able to forecast their future electricity costs.
For a seller, corporate buyers present an opportunity to finance renewable energy projects without the availability of a subsidy.
Conclusion
Renewable energy subsidies have provided financial security for nearly two decades, allowing the renewables sector to flourish and thrive. In a world that is calling out for clean sources of energy as the direct route for combatting climate change and air pollution, corporates are being held more and more accountable for delivering this by customers and their shareholders alike. The role of the CPPA is more significant than ever, especially in meeting the challenges of a subsidy-free market, within the context of the UK market.
References
https://www.irena.org/